Adhesive tapes with print
Printed adhesive tapes for affixing or marking company mail; envelopes and parcels, but also, for example, stocks in the warehouse or boxes with archival documents in the accounting office. Adhesive tapes with printing must not be missing in any office or warehouse. Every company needs to stick something up from time to time. If it is an e-shop, then adhesive tapes with a print are an indispensable helper when dispatching orders.
Corporate adhesive tape printing allows carriers and customers to quickly distinguish a shipment from others. Adhesive tapes with a logo or other company print are unique adhesive tapes that, in addition to the practical function of gluing, provide the company with unmissable advertising.
Get your company's adhesive tapes with your own print and grab the attention of all potential customers! You can order adhesive tapes with top-quality printing in 1 or 2 colors online.
Explore other useful office supplies at Europegift.eu and Papirove-dary.cz.
Quick info
Price include printing cost
With custom printing
delivery 3 - 5 weeks
551,66 EUR
excl. VAT
(5,10 EUR/pcs)
551,66 EUR
incl. VAT
Quick info
Price include printing cost
With custom printing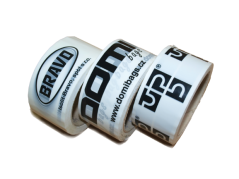 delivery 3 - 5 weeks
493,68 EUR
excl. VAT
(4,57 EUR/pcs)
493,68 EUR
incl. VAT