Women's jackets and vests
Women's advertising jackets and vests with corporate printing will warm and delight your colleagues, customers and clients. They are a practical and cute gift item that creates great advertising for your business.
In the Corporate Advertising e-shop, you can choose advertising clothing for women to wear all year round: spring to autumn and winter jackets and vests. The offer also includes the popular printed softshell. We offer women's jackets and vests in natural and pastel colors, modern cuts and standard women's sizes.
We have been providing branding for women's jackets and vests for 20 years. We always choose the most suitable and economically advantageous printing technology for a perfect final product. We cooperate with verified and long-standing suppliers and manufacturers of modern, comfortable and attractive jackets and vests.
You can find more information and other advertising women's jackets and vests for your own printing at: www.textil-pro-firmy.cz or www.europegift.cz.
delivery in 14 days
2 540,75 EUR
excl. VAT
(50,81 EUR/pcs)
2 540,75 EUR
incl. VAT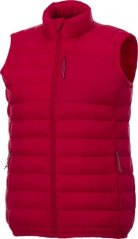 delivery in 14 days
1 903,17 EUR
excl. VAT
(38,06 EUR/pcs)
1 903,17 EUR
incl. VAT
delivery in 14 days
1 511,16 EUR
excl. VAT
(30,22 EUR/pcs)
1 511,16 EUR
incl. VAT